Engraved Yeti Ramblers
This will do more than just hold your beverage! They'll advertise for your business! That's the beauty of engraving your logo. Once you do it, it's on there for the entire life of the product—and in the case of engraved Yeti Ramblers, that's a very long time. Engraved Yeti Ramblers are beyond durable, which means that people will be using them and thinking about your company for many, many years to come! That's a fantastic up-front investment, even if you're just giving the cups away at corporate events. If you sell the engraved Yeti Ramblers in your store instead, then your customers are paying you to advertise!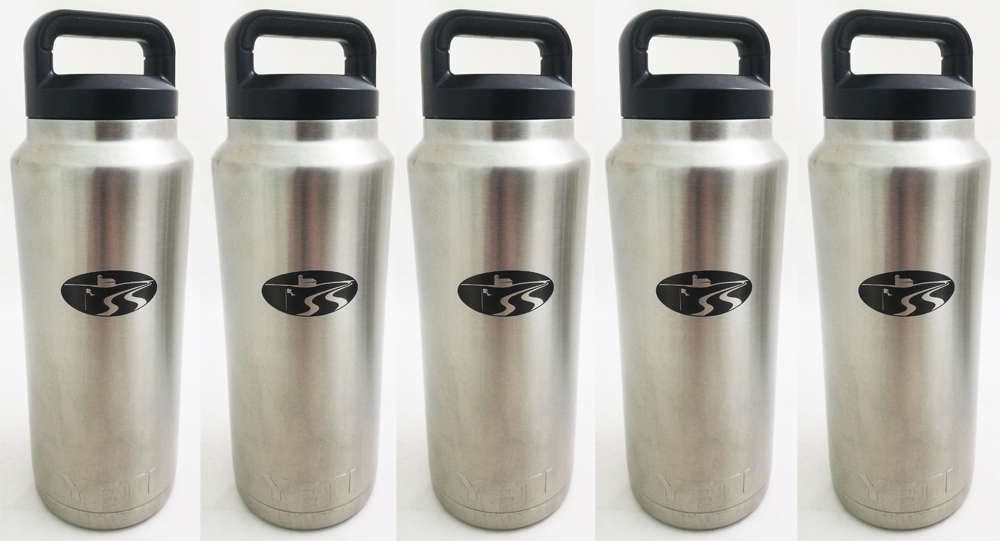 Even if you're not representing a corporation, engraved Yeti Ramblers are still a good look for you. Think about all of the happy events in your life that you might want to be regularly reminded of. Engraved Yeti Ramblers make fantastic gifts for a wedding party, celebratory trophies at the end of a successful sports season, or just as tokens of membership in a club! No matter what it is you're looking to commemorate, you just can't go wrong with engraving. It's a classic, timeless look that will always be in style.
To summarize: engraved Yeti Ramblers are a fantastic purchase if you are a business, or if you know someone who is. And if neither you nor and any of your friends are a business, they're still a great choice as mementos of times past! So whether you are or aren't a business, or even if you're hoping to someday be a business, these cups are the way to really set yourself apart. We have plenty of beautiful images to look through to give you an idea of what your products might look like. We have been known to send people pictures of engraved examples before committing 100%.
Engraving a logo on a cup can significantly benefit a business in various ways. Firstly, it enhances brand visibility as the logo becomes prominently displayed to anyone using or seeing the cup, thereby increasing brand recognition. This engraving also adds an element of professionalism, indicating attention to detail and a commitment to quality, positively influencing how the brand is perceived. Additionally, engraved cups serve as powerful promotional tools, especially when distributed at events, conferences, or as giveaways. Regular use of these cups fosters brand recall and loyalty among consumers.
Moreover, customized cups can strengthen customer engagement, acting as tokens of appreciation that encourage continued interaction. In a competitive market, branded and engraved cups help a business stand out, creating a distinctive identity. When given as corporate gifts, these cups extend the brand's reach into professional circles. Furthermore, the positive user experience associated with quality cups enhances the brand's reputation. Social media sharing of branded cups also leads to free publicity, while if made from eco-friendly materials, they communicate the business's commitment to sustainability, appealing to environmentally conscious consumers. Overall, engraving a logo on cups is a strategic branding move that enhances brand visibility, fosters customer loyalty, and contributes to a positive brand image.
Stainless steel drinkware stands as a paragon of both cleanliness and sturdiness in the world of beverage containers. Its non-porous surface resists the harboring of bacteria, ensuring a consistently hygienic environment for your drinks. Easy to clean and sterilize, stainless steel offers a hassle-free solution for maintaining impeccable cleanliness. Furthermore, its robust construction guarantees unparalleled durability. Resistant to dents, scratches, and corrosion, stainless steel drinkware can withstand the rigors of daily use and the challenges of various environments, be it in the bustling kitchen or the great outdoors. This remarkable combination of cleanliness and sturdiness not only ensures a safe and pristine drinking experience but also prolongs the lifespan of your drinkware, making it a reliable choice for those who appreciate both quality and practicality in their everyday essentials.
Got a project?
OR
OR
Engraved Yeti Ramblers? Yup, you found the right page on Google.