Engraved White Yeti, Personalized Yeti Tumblers
Getting your own custom engraved white YETI is a great way to brand or personalize your drinking receptacles. Over the years we have acquired many different laser machines – some small, some HUGE. We can engrave on virtually any surface, but making engraved white tumblers warms our hearts. Our laser engraver technicians can make your marks light or dark, deep or superficial. With Laser Engraving Pros you are working with a team of creatives & technicians who strive to bring your vision down to earth… and onto products that can last a lifetime – and if you lack a vision, we would be happy to help with that too!
Indulge in the epitome of beverage perfection with the Yeti Tumbler, a true marvel of modern engineering. Crafted from kitchen-grade stainless steel, this tumbler is a powerhouse of insulation, keeping your drinks ice-cold for up to 24 hours or steaming hot for 6. Its double-wall vacuum insulation technology ensures that condensation is a thing of the past, leaving your hands dry and your drink at the perfect temperature. The shatter-resistant construction means it's ready for any adventure, whether it's a rugged outdoor escapade or your daily commute. The sleek design fits comfortably in your hand and most cupholders, making it your ideal companion wherever life takes you. Plus, the No Sweat™ design keeps your hands dry and eliminates the need for coasters. Elevate your drinking experience with the Yeti Tumbler, where style meets durability, and every sip is an absolute delight.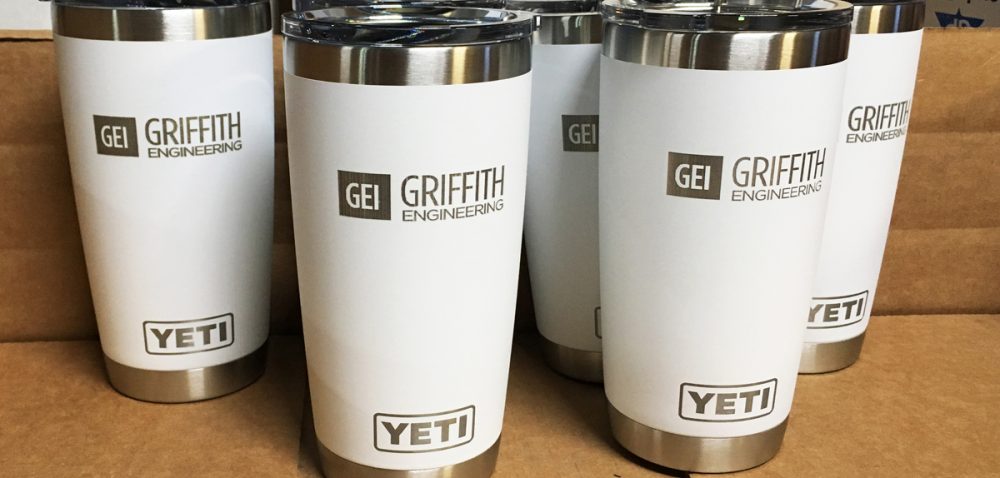 Create an engraved white YETI anyway you want by filling out the form linked below, emailing us directly, or calling (800) 482-1553 Mon-Fri 9 AM-5 PM EST. Be as specific or nonspecific as you need to be. We will create a unique quote based on the requests of your order. If you would prefer to provide the material that you would like us to engrave, you can have your items shipped directly to us. If it's something we can provide or make from scratch, we can ship the finished product to you directly via UPS. We send packages all across the globe. We can't wait to hear about your laser engraving project!
Order Your Engraved White YETI Here!
Got a project?
OR
OR